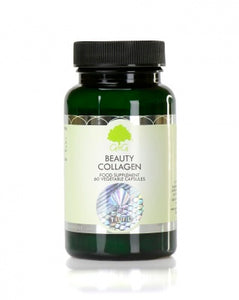 G & G
Beauty Collagen 60's
Regular price
£12.00
£0.00
Unit price
per
Tax included.
WHAT IS BEAUTY COLLAGEN?
Beauty collagen is a blend of hydrolysed marine collagen, vitamin C and hyaluronic acid. In hydrolysed collagen, the collagen bonds have been broken, leaving the essential amino acids intact and ready for digestion. 
OUR BEAUTY COLLAGEN
Hydrolysed marine contains type I collagen, which is used for the tissue such as skin. Hyaluronic acid helps to retain moisture.
WHAT DOES BEAUTY COLLAGEN DO?
Vitamin C contributes to:
Normal collagen formation for the normal function of skin. 
Protection of cells from oxidative stress
EXCIPIENT FREE
Our Collagen supplement comes in the form of a vegetable cellulose capsule. This enables us to offer a supplement that does not require  excipients, binders or unnatural fillers. A vegetable cellulose capsule is designed specifically to break down naturally within the acid of your stomach, ensuring that the nutrients are absorbed during digestion.
1 capsule provides:
 
 
RI%
Collagen (Marine) (FISH)
450mg
Vitamin C (Ascorbic acid)
50mg
 
62.5%
Hyaluronic acid
50mg
Capsule shell: vegetable cellulose
---