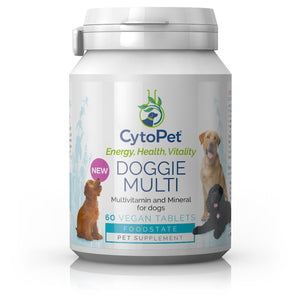 Cytoplan
CytoPet Doggie Multi 60's
Regular price
£11.10
£0.00
Unit price
per
Tax included.
This supplement is high in antioxidant minerals and B-complex vitamins, beneficially combined in a food base of inactive Lactobacillus bulgaricus. It is designed to optimise nutrient levels needed for health and vitality, as dogs no longer forage and hunt as their physiology is designed to do.
ngredients:
Inactivated Lactobacillus bulgaricus combined with pantothenic acid, zinc, vitamin B6, vitamin B1, vitamin B2, ferrous fumarate, copper sulphate, potassium iodide, chromium III chloride; vitamin C incorporated in citrus pulp; vitamin E combined with pea protein; beta carotene combined with carrot concentrate; vitamin K1 combined with alfalfa; biotin, folic acid, niacinamide, para amino benzoic acid (PABA) and selenium combined with inactive Saccharomyces cerevisiae; vitamin D3 (as cholecalciferol); vitamin B12 (as methylcobalamin)
Analytical constituents (%)
Protein (0%), Fibre (27%), Ash (<3.5%), Calcium (22mg), Sodium (3%),Phosphorus (58mg), Starch (0.3%). 
Approval number: GB144 2877
Additives: Vegetable stearic acid; silicon dioxide
---