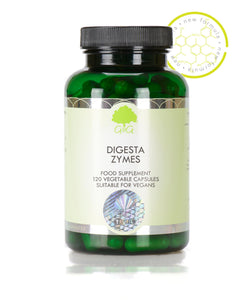 G & G
Digesta Zymes 120's
Regular price
£15.00
£0.00
Unit price
per
Tax included.
A blend of natural ingredients: lipase (an enzyme the body uses to break down fats) protease (mainly to help us digest different kinds of proteins), Amylase (enzyme the body uses to breakdown carbohydrates). Ginger, peppermint and fennel for their natural ability to support the digestive system.
Ingredients:
Lipase 10,000 FIP/g 
(maltodextrin (corn), lipase enzymes), 
Protease 
(maltodextrin, protease enzyme), 
Amylase 27,000 u/g 
(maltodextrin (potato), amylase enzyme), 
Papain 6,000 u/g  
SULPHITES
) 
maltodextrin, papain enzyme, 
Bromelain (1:10 80 GDU/g) 
(di calcium phosphate, bromelain, 
maltodextrin (corn))
Trypsin (GLUTEN) 50mg 
(maltodextrin (maize), trypsin enzyme), 
Alpha-Galactosidase 1,000 GaIU/g 
(alpha-galactosidase, maltodextrin (maize)), 
Fennel seed, 
Ginger root ext (10:1), 
(ginger ext, maltodextrin), 
(equivalent of ginger powder), 
Peppermint leaf 
Allergy advice: For allergens, see ingredients in bold.
There are
14 major allergens
listed in Annex II (1169/2011) of the EU Food Information for Consumers Regulation.
---