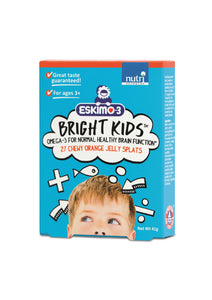 Nutri advanced
Eskimo-3 Bright Kids Jelly Splats 27's
Regular price
£15.15
£0.00
Unit price
per
Tax included.
Formulated for kids aged 3 and over, Eskimo®-3 Bright Kids™ is a pure and stable fish oil in a delicious chewable jelly splat tablet that provides the omega-3 fatty acids EPA and DHA which are important for our health. Now including vitamin D.
Ingredients:
Fish
oil (antioxidant: tocopherol-rich extract), sweeteners: xylitol, sorbitol; water, gelling agent: gelatin (bovine), choline bitartrate, flavourings (natural): strawberry, orange, lemon; acidity regulator: trisodium citrate, colour: paprika extract, vitamin D (cholecalciferol), biotin (D-biotin), vegetable oil (canola)
Allergy advice: For allergens, see ingredients in bold.
There are
14 major allergens
listed in Annex II (1169/2011) of the EU Food Information for Consumers Regulation.
Additives: Sweeteners: xylitol, sorbitol; water, gelling agent: gelatin (bovine), choline bitartrate, flavourings (natural): strawberry, orange, lemon; acidity regulator: trisodium citrate, colour: paprika extract, vegetable oil (canola)
Sweeteners: Sorbitol, xylitol
---