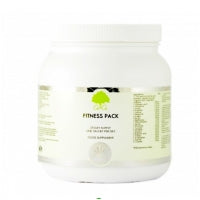 G & G
Fitness Pack 28 Day Supply
Regular price
£26.00
£0.00
Unit price
per
Tax included.
28 Day Supplement Pack (One Sachet per Day)
The Fitness pack is a health supplement daily pack designed to provide 28 days worth of balanced vitamin and mineral supplements to suit a busy fitness lifestyle. G&G have brought together a number of essential vitamins and minerals combined with supplements ideal for fitness.

WHY CHOOSE THIS DAILY SUPPLEMENT PACK
G&G ensure that all of the health supplements are perfectly balanced to work with the body, providing precise nutrient levels of certain vitamins and minerals. While it is possible to blend all of the supplements within our Fitness Pack into a single health supplement, this would remove a lot of the nutrients and balance that is provided from multiple supplements. This daily supplement sachet provides a mixture of health supplements that are easy to manage and balanced correctly.

EACH SACHET CONTAINS:
2x Full Spectrum Amino Acid Complex Capsules
Amino acids are the building blocks of protein, used by the body to help build new tissue and aid muscle. There are 20 amino acids utilised by the human body, our Full Spectrum Amino Acid supplement provides all 20.

1x Vitamin E 400iu Capsule
Vitamin E is a well-known fat-soluble antioxidant. It comes in eight forms, some of which are synthetic, while others are naturally obtained. We use D-Alpha Tocopherol Succinate in our vitamin E supplement. This is a natural form of vitamin E.

1x Vitamin B-Complex Nicotinamide Capsule
The B vitamin group are water-soluble, which means the body cannot store them. They must therefore be a standard part of the diet to avoid deficiency. Our high-quality vitamin B-complex health supplement is a blend of essential B-vitamins in the ideal ratio for the human body. This includes the six numbered vitamins (B1, B2, B3, B5, B6, B12).

2x Cal-M Capsules
Cal-M is a powdered blend of calcium, magnesium and organic cider vinegar, designed to deliver these important minerals as acetates, making them more readily absorbed by the body.

1x CoQ10 Capsule
Coenzyme Q10, known commonly as CoQ10, is closely involved in the metabolic processes that converts glucose into the energy that drives every process in the body. This is why it is so abundant in muscle tissue with the heart muscle having the highest concentration of CoQ10.

1x Vitamin A & D3 Capsule
Vitamin A and D3 are fat-soluble nutrients. Vitamin D3 is produced naturally by the human body when exposed to the sun. Modern lifestyles have decreased the exposure we get to the sun, which has made it more important to monitor potential deficiency.

1x Super Antioxidant Plus Capsule
Super Antioxidant Plus contains a unique blend of vitamins and minerals within an antioxidant supplement to provide a range of powerful nutrients.

1x Mineral Multi Capsule
Mineral Multi provides a unique blend of 13 essential minerals within a single supplement capsule.

1x Kelp Capsule
Kelp has long been known as a rich source of iodine. Our organic kelp supplement is made from pure kelp, sourced from the Outer Hebrides. This means that it is one of the few seaweeds to be certified free of ocean borne contaminants, toxic metals and microbial pathogens.
Full Spectrum Amino Acid Complex
Capsule shell: vegetable cellulose 240mg
L-Glutamic acid 150mg
L-Glutamine 150mg
L-Lysine 150mg
L-Arginine 138mg
L-Leucine 120mg
L-Isoleucine 90mg
L-Valine 90mg
Glycine 88mg
L-Methionine 72mg
L-Phenylalanine 72mg
L-Serine 72mg
L-Threonine 60mg
L-Tyrosine 60mg
L-Histidine 40mg
L-Alanine 36mg
L-Aspartic acid 30mg
L-Proline 30mg
L-Tryptophan 24mg
L-Taurine 20mg
L-Cysteine 7.4mg

Vitamin E 400iu Natural
D-alpha tocopherol succinate 268mg
Capsule shell: vegetable cellulose 100mg
Rice flour 10mg

Vitamin B-Complex 50mg
Capsule shell: vegetable cellulose 100mg
Vitamin B1 (thiamine HCl) 50mg
Vitamin B2 (riboflavin) 50mg
Vitamin B3 (nicotinamide) 50mg
Vitamin B5 (D-calcium pantothenate) 50mg
Vitamin B6 (pyridoxine HCl) 50mg
Para-aminobenzoic acid (PABA) 50mg
Inositol 50mg
Choline (bitartrate) 23mg
Silica dioxide 19.8mg
Alfalfa 15mg
Folic acid (folacin) 100ug
Vitamin B7 (biotin) 50ug
Vitamin B12 (methylcobalamin) 50ug

Cal-M
Calcium gluconate, magnesium carbonate and dried cider vinegar, once mixed producing the mineral acetates.
Capsule shell: vegetable cellulose 200mg
Calcium 41mg
Magnesium 3.2mg

CoQ10
Rice flour 400mg
Capsule shell: vegetable cellulose 100mg
CoQ10 100mg

Vitamin A & D3
Rice flour 141mg
Capsule shell: vegetable cellulose 40mg
Vitamin A (acetate) 10,000iu 3mg
(starch, maltodextrin, vitamin A acetate, sucrose)
Vitamin D3 400iu 10ug
(maltodextrin, starch, sucrose, vitamin D3 (cholecalciferol))

Super Antioxidant Plus
Capsule shell: vegetable cellulose 100mg
L-glutathione 100mg
Vitamin C (ascorbic acid) 100mg
Alpha lipoic acid 50mg
Grape seed extract (95% OPC) 40mg
Turmeric extract (95% curcuminoids) 40mg
Vitamin E natural (50iu) 33.6mg
(D-alpha tocopherol succinate)
Pine bark extract (95% OPC) 30mg
Co-enzyme Q10 20mg
Bilberry extract (4:1) (Bilberry fruit, maltodextrin) 10mg
Green tea extract (50% polyphenols) 10mg
Manganese (citrate) 3mg
Zinc (citrate) 3mg
Vitamin A (acetate) 1,000iu 300ug
(starch, maltodextrin, vitamin A acetate, sucrose)
Selenium (Di-calcium phosphate, L-selenomethionine) 100ug

Mineral Multi
Capsule shell: vegetable cellulose 120mg
Calcium (bisglycinate) 71.4mg
Magnesium (bisglycinate) 35.7mg
Ionic minerals 14.3mg
Potassium (citrate) 6.4mg
Iron (bisglycinate) 2.6mg
Zinc (bisglycinate) 2.1mg
Manganese (bisglycinate) 571ug
Copper (bisglycinate) 286ug
Iodine (potassium iodide) 32ug
Boron (sodium borate) 14ug
Chromium (picolinate) 11ug
Selenium (L-selenomethionine) 11ug
Molybdenum (ammonium molybdate) 7ug

Kelp
Kelp (Ascophyllum nodosum) 500mg
(providing 350ug of iodine)
Capsule shell: vegetable cellulose 100mg

CONTAINS NO: gluten, wheat, artificial preservatives or colourings.

Suitable for vegetarians and vegans
Recently Viewed
---