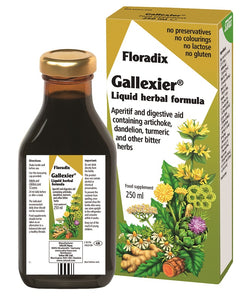 Salus
Salus Floradix Gallexier Liquid Herbal Formula 250ml
Regular price
£12.69
£0.00
Unit price
per
Tax included.
Description
Gallexier is a liquid formula containing; artichoke, dandelion, turmeric and other bitter herbs such as gentian and ginger and cardamom which all help to support digestion. Turmeric and dandelion stimulate the appetite.
Ingredients
Ingredients:
Aqueous herbal extract (75%) from: artichoke leaf (Cynara scolymus), dandelion leaf (Taraxacum officinale), gentian root (Gentiana lutea), turmeric rhizome (Curcuma longa), yarrow aerial part (Achillea millefolium), ginger rhizome (Zingiber officinale), camomile flower (Matricaria recutita), fennel fruit (Foeniculum vulgare), bitter orange peel (Citrus aurantium), bogbean leaf (Menyanthes trifoliata), cardamom fruit (Elettaria cardamomum).
Sweeteners: Fructose Syrup.
---