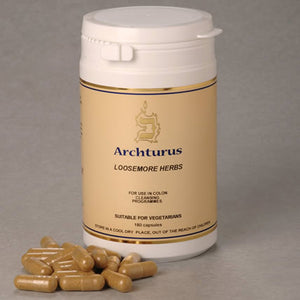 Archurus
Loosemore Herbs 180's
Regular price
£19.00
£0.00
Unit price
per
Tax included.
An original and unique recipe formulated by one of the world's greatest herbalists. This recipe is a wonderful gift to the Archturus Range. These herbs not only aid the removal of impacted waste in the colon but also tone the bowel, inducing gentle, yet active peristalsis. The herbal mixture is encapsulated for ease in taking and one of the best-selling products.

active ingredients
Composition (each capsule) 
Fennel 120mg 
Raspberry Leaf 20mg 
Berberis 80mg 
Cayenne 20mg 
Cascara 60mg 
Ginger 20mg 
Rhubarb 40mg 
Golden Seal 20mg 
Liquorice 20mg
dosage instructions
Take 2 capsules twice daily with a meal or as directed by practitioner.
---