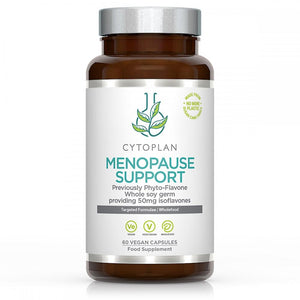 Cytoplan
Menopause Support
Regular price
£30.00
£0.00
Unit price
per
Tax included.
Menopause Support contains 100% natural soy isoflavones from whole soy germ, providing daidzein, glycitein and genistein. Soy isoflavones are often taken to support women's health during and after the menopause. This product was previously known as Phyto-Flavone.
Nutrient Information:
Daily Intake Amount: One capsule
Yielding soy isoflavones
50
mg
✝
Providing: Daidzein
27.5
mg
✝
* NRV is the Nutrient Reference Value
✝ NRV not yet established
Directions:
One to three capsules daily or as directed by a healthcare practitioner.
---