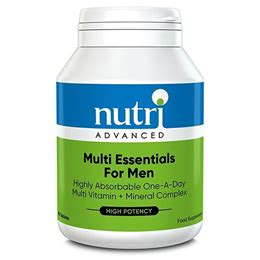 Nutri advanced
Multi Essentials for Men 50+
Regular price
£24.50
£0.00
Unit price
per
Tax included.
Why choose Multi Essentials for Men 50+?
Expertly formulated to meet the evolving demands of men as they age, Multi Essentials for Men 50+ is packed full of a comprehensive range of high strength vitamins and minerals, from active B vitamins and D3, all the way to zinc to help you stay sharp and active into your 50s and beyond. Providing targeted support for prostate health, cardiovascular health, muscle function, stress and optimal brain function as well as immunity; this formula helps you to sail through everyday life with energy and vitality.
Supplied in a smaller tablet size than our other multivitamins, meaning that two tablets per dose are required. The smaller tablets are easy to take, making it a great option for those who find larger tablets difficult to swallow.
Key Features

1000IU of vitamin D3 (dosage recommended by the Endocrine Society) in the body's preferred form for optimal absorption, to support healthy immune function.
400mcg of folate, the body ready form of vitamin B9 (Folic Acid) and 200% of the NRV (National Reference Value) to support the normal function of the immune system and to reduce tiredness and fatigue.
90mcg (120% of NRV) of vitamin K2 which works synergistically with vitamin D for bone health. Vitamin D aids calcium absorption, whilst K2 helps direct calcium to the bones.
Higher concentrations of vitamins B, C and D than other similar multivitamins.
Includes lycopene and plant sterols to support healthy prostate function.
Added ashwagandha to support anxiety and promote feelings of calm.
Additional botanicals including bacopa extract for healthy memory and brain function, ginseng to optimise energy and vitality, and green tea extract for antioxidant support.
Free from iron due to reduced requirements and higher risk of iron overload in men.
Smaller tablet size, great for those who find larger tablets hard to swallows
Two tablets typically contain:




% NRV**

Vitamin A (beta-carotene) (5000IU)

500µg RE*

63

Vitamin C (ascorbic acid)

250mg

313

Vitamin D3 (cholecalciferol) (1000IU)

25µg

500

Vitamin E (d-alpha tocopherol) (18iu)

12mg a-TE

100%

Mixed Tocopherols

3.6mg

✝

Vitamin B1 (thiamine mononitrate)

50mg

4545

Vitamin B2 (riboflavin)

30mg

2143

Vitamin B3 (nicotinamide)

30mg

188

Vitamin B6 (pyridoxal-5-phosphate)

25mg

1786

Folate (as 5-MTHF)

400µg

200

Vitamin B12 (methylcobalamin)

400µg

16000

Biotin

50µg

100

Pantothenic acid

25mg

417

Iodine (potassium iodide)

150µg

100

Magnesium (citrate)

25mg

7

Zinc (citrate)

25mg

250

Selenium (selenomethionine)

55µg

100

Copper (bisglycinate)

6µg

0.6

Manganese (citrate)

18µg

0.9

Chromium (picolinate)

50µg

125

Molybdenum (sodium molybdate)

100µg

200

Choline (bitartrate)

20mg

✝

Potassium (citrate)

10mg

0.5

Vitamin K2 (MK-7)

90µg

120

Lycopene

5mg

✝

Taurine

50mg

✝

Plant sterols

100mg

✝

Panax ginseng 10:1 (Panax ginseng) extract

   starndardised to 20% ginsenosides

50mg

✝

Bacopa Extract (Bacopa monnieri)

50mg

✝

Green Tea (Camellia sinensis) 10:1 extract

   standardised to 50% polyphenols, EGCG 4-7%

50mg

✝

KSM-66® Ashwagandha Root Extract (Withania somnifera)

50mg

✝
*µg RE = micrograms retinol equivalents 
** NRV is the Nutrient Reference Value
✝ NRV not yet established
Tableted with:
Microcrystalline cellulose
Silicon dioxide
Stearic acid
Magnesium stearate
Coating (hydroxypropyl methyl cellulose, hydroxypropyl cellulose, natural safflower and lemon, hydroxypropyl cellulose, calcium carbonate, microcrystalline cellulose, stearic acid)
---