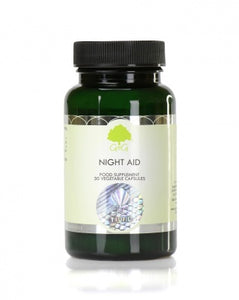 G & G
Night Aid (with 5-HTP) - 30 Capsules
Regular price
£13.00
£0.00
Unit price
per
Tax included.
G&G's NIGHT AID SUPPLEMENT
Our Night Aid supplement provides high strength natural 5-HTP derived from the griffonia plant, blended with chamomile, reishi mushroom, ashwagandha, hops, schisandra berry, maca root, inositol, selenium, magnesium and vitamin B6.
WHAT IS 5-HTP (5-hydroxytryptophan)?
5-HTP is a metabolite of L-tryptophan and precursor to serotonin which is used to create melatonin and initiate a sleep cycle. 
WHAT DOES NIGHT AID DO?
Vitamin B6 contributes to normal:
Homocysteine metabolism
Cysteine synthesis
Red blood cell function
Regulation of hormone activity
Protein and glycogen metabolism
Function of the immune system
Function of the nervous system and psychological function
Selenium contributes to normal:
Thyroid function
Protection of cells from oxidative stress.
Selenium contributes to the normal function of the immune system
SUITABLE FOR VEGANS
Night Aid supplement is suitable for vegetarians and vegans. It is also approved kosher and does not contain any major allergens.
---