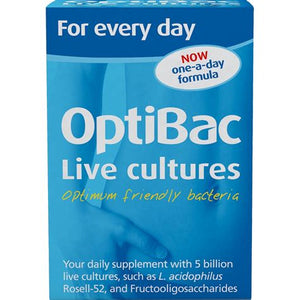 Optibac
Optibac For Everyday
Regular price
£12.50
£0.00
Unit price
per
Tax included.
Who is it for?

For anyone looking for a quality daily good bacteria supplement and an easy sugar-free alternative to yoghurts and yoghurt drinks.
Good to know:
Each capsule contains 5 billion friendly bacteria + 88mg of Fructooligosaccharide (FOS) fibres and the billions count is guaranteed until end of expiry.
Bestselling supplement containing 6 different live cultures strains from the Lactobacillus, Lactococcus and Bifidobacterium genera.
Scientifically proven to pass through stomach acidity and survive to reach the gut.
Easy to take on the go – no refrigeration required.
Suitable for: women during pregnancy, vegetarians and gluten free for those with coeliac disease or an intolerance.
Suitable from 1 year onwards.
Recommended for daily use.
Sugar-free
Free from artificial flavourings or colourings that may be found in other food & drinks containing live cultures.
30 capsules, 1 per day
Ingredients
Stabiliser: potato starch
Live cultures: Lactobacillus rhamnosus Rosell-11, Lactobacillus acidophilus Rosell-52, Bifidobacterium longum Rosell-175, Lactococcus lactis Rosell-1058, Bifidobacterium breve Rosell-70, Bifidobacterium bifidum Rosell-71 and Fructooligosaccharides (FOS 88mg)
Vegetarian capsule: hydroxypropyl methylcellulose; anti-caking agent: vegetable magnesium stearate; antioxidant: ascorbic acid
Each capsule guarantees 5 billion micro-organisms + 88mg FOS fibres.
Contains 15g protein per 100g, equivalent to 0.066g protein per 440mg capsule.
Suitable for vegetarian diets.
Dairy is not an ingredient, however it is used in production. Any minute traces would not affect those with lactose intolerance.
Following the taxonomic updates advised by a global team of scientists and published in April 2020, a reclassification has been proposed for the rhamnosus species. The rhamnosus strain in 'For every day' may therefore now also be known as  Lacticaseibacillus rhamnosus Rosell-11.
---