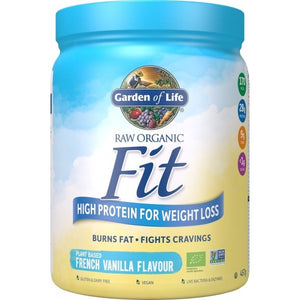 Garden of Life
Raw Organic Fit French Vanilla 457g
Regular price
£39.99
£0.00
Unit price
per
Tax included.
Raw Organic Fit offers 28g of complete plant protein with 13 organic sprouted grains, seeds and legumes. It contains easily digested plant proteins PLUS 3 billion CFU of live bacteria and 13 digestive enzymes.
Protein helps support the growth and maintenance of muscle.
Raw Organic Fit contains several ingredients including raw organic Svetol Green Coffee Bean Extract (naturally decaffeinated) and Ashwaghanda to provide dietary and exercise support and an additional blend of organic Cinnamon, Daikon radish sprout, Alfafa sprout and Baobab fruit to help support your blood sugar levels and overall needs. It can help contribute to your daily intake of fibre with 9g of organic wholefood fibre per serving.
Raw matters because heat and processing can denature protein, reducing its availability to the body.
Garden of Life's plant proteins in Raw Organic Fit are produced at low temperatures, preserving their complete amino acid integrity and Raw Organic Fit has a delicious flavour.
Certified by Informed Choice, Raw Organic Fit is tested and trusted as a clean supplement for competitive sports. Since the very beginning Garden of Life has chosen the cleanest, purest, whole food organic ingredients for their formulations to ensure that your body is being nourished the way nature intended.
Directions:
Mix 1 level scoop in 300ml of water (scoop included). Delicious with unsweetened almond milk. Enjoy as pre or post -workout.
Ingredients:
Raw Certified Organic Protein Blend (89%): Organic pea protein, organic sprouted brown rice protein, organic tapioca fibre, organic chia seed and sprout, organic flax seed and sprout, organic cracked cell-wall chlorella, organic amaranth sprout, organic quinoa sprout, organic millet sprout, organic buckwheat sprout, organic garbanzo bean sprout, organic adzuki bean sprout, organic sunflower seed sprout, organic pumpkin seed sprout, organic sesame seed sprout. Diet and Exercise Support Blend(2%) :Raw organic Svetol (naturally decaffeinated coffee bean extract), raw organic ashwaghanda. Superfood Blend (1%): Organic baobab fruit, organic cinnamon, organic daikon radish sprout, organic alfafa sprout. Raw Live Bacteria and Enzyme Blend (<1%) : Lactobacillus acidophillus, Lactobacillus plantarum, (3 billion CFU), lipase, protease, aspergillopepsin, beta-glucanase,cellulase, bromelain, phytase, lactase, papain, peptidase, pectinase, hemicellulase, xylanase. Organic flavour blend (8%): Organic vanilla flavouring, sweeteners (organic erythritol (E968), organic stevia extract (leaf), (E960), sea salt, organic chia flavour.
Warnings:
Do not use as a substitute for a varied and balanced diet and a healthy lifestyle.
Consult your healthcare practitioner before starting any new fitness program, especially if you are pregnant, nursing or anticipate surgery, take medication on a regular basis or are otherwise under medical supervision. This product is not intended for use by children.
Storage:
Store in a cool, dry place. Keep out of reach of children. Do not use if safety seal is broken or missing.
---