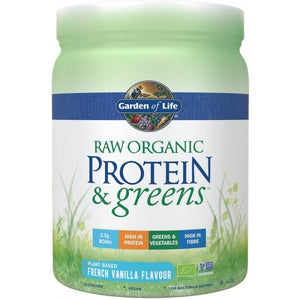 Garden of Life
Raw Organic Protein and Greens French Vanilla 411g
Regular price
£39.99
£0.00
Unit price
per
Tax included.
Raw Organic Protein & Greens French Vanilla is an organic plant protein with the addition of raw organic veggies and greens, all in one great tasting serving!
It offers 20g of complete plant protein, 3.6 g of BCAAs per serving with 4 organic sprouted grains, seeds and legumes as well as organic pea protein grown on Garden of Life's USA farms. Organically farmed ingredients allow the avoidance of both conventional fertilisers and toxic pesticides that can leave residue, and the GMOs in traditionally farmed crops.
Raw Organic Proteins & Greens contains easily digested plant proteins PLUS 1.5 billion live bacteria and 13 digestive enzymes.
Protein helps support the growth and maintenance of muscle, helping you meet your optimal needs. The six nutrient-rich, organic greens and veggies include organic alfalfa grass juice which has 6 times the nutrient density of whole leaf grass plus organic spinach, organic kale, organic broccoli, organic carrot and organic beet.
Raw matters because heat and processing can denature protein, reducing its availability to the body. Garden of Life's plant proteins are produced at low temperatures, preserving their complete amino acid integrity.
Certified by Informed Choice, Raw Organic Protein & Greens is tested and trusted as a clean supplement for competitive sports. Since the very beginning, Garden of Life has chosen the cleanest, purest, whole food organic ingredients for their formulations to ensure that your body is being nourished the way nature intended.
Directions:
Mix 1 level scoop with 200ml of water (scoop included).Delicious with unsweetened almond milk. Can be enjoyed as pre or post workout.
Ingredients:
Raw Organic Protein & Greens Blend (96%) : Organic sprouted brown rice protein, organic pea protein, organic spinach (leaf), organic chia protein, organic alfalfa grass juice, organic broccoli (stalk & flower), organic navy bean (sprout), organic lentil (sprout), organic garbanzo bean (sprout), organic carrot (root), organic beet (root),organic kale (leaf). Organic flavour blend (4%); Organic vanilla flavour. Sweetener: Organic stevia extract (leaf) (E960). Raw Live Bacteria and Enzyme Blend (<1%): Lipase, protease, aspergillopepsin, beta-glucanase, cellulase, bromelain, phytase, lactase, papain, peptidase, pectinase,xylanase,hemicellulase, (Lactobacillus plantarum, Lactobacillus bulgaricus) 1.5 billion CFU.
Dairy Free
Gluten Free
Organic
Vegan
Warnings:
Do not use as a substitute for a varied and balanced diet and healthy lifestyle.
Storage:
Store in a cool, dry place. Keep out of reach of children. Do not use if safety seal is broken or missing.
---