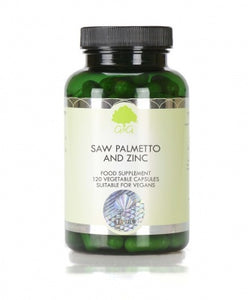 G & G
Saw Palmetto & Zinc - 120 Capsules
Regular price
£20.00
£0.00
Unit price
per
Tax included.
WHAT IS SAW PALMETTO?
Saw palmetto is an extract from a small palm tree that grows wild in South America and Africa. It has been used for many years. The active ingredients from saw palmetto fruit include plant sterols and fatty acids. 
OUR SAW PALMETTO SUPPLEMENT BLEND
Our Saw Palmetto supplement provides pure saw palmetto powder, combined with zinc, which can contribute to normal testosterone levels in the blood, fertility, reproduction and maintenance of hair.
WHAT DOES SAW PALMETTO & ZINC DO?
Plant sterols contribute to the maintenance of normal blood cholesterol levels
Zinc contributes to normal:
Maintenance of testosterone levels in the blood
Fertility and reproduction
A role in the process of cell division
The protection of cells from oxidative stress
DNA synthesis
Carbohydrate metabolism
Cognitive function
Protein synthesis
Maintenance of hair, skin, vision and nails
SUITABLE FOR VEGANS
Saw Palmetto is suitable for vegetarians and vegans. It is also approved kosher and does not contain any major allergens.
---