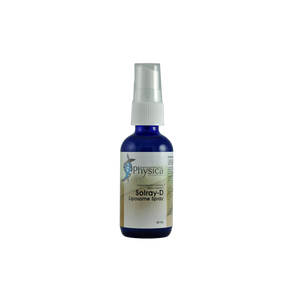 Physica
Solray D - Vitamin D and K2
Regular price
£34.00
£0.00
Unit price
per
Tax included.
Dosages
Just one spray of Solray-D under the tongue provides 1000iu of vitamin D (the standard dose) in a pleasant tasting orange flavoured spray which makes it easy and enjoyable for the whole family to take.
| | |
| --- | --- |
| 1 spray daily lasts 375 days | 1000iu |
| 5 sprays daily lasts 75 days | 5000iu |
| 10 sprays daily lasts 37 days | 10000iu |
The amount of Vitamin D needed to raise and/or maintain blood serum levels for one person may not be enough for another. This is due to variable factors such as age, weight, absorption, overall health, and amount of sun exposure. Occasional monitoring of your vitamin D levels will help determine what dose is right for you.
MORE INFORMATION
It is estimated that over 50% of the global population is at risk from vitamin D deficiency with people living in countries with limited daily exposure to sunshine such as the UK at greater risk.*

Once thought only to benefit bone health, there is now a growing body of evidence to suggest that vitamin D plays a huge role in the overall health of the body. It has even been suggested that vitamin D should be reclassified as a hormone. This is why one of the most important things you can do for your health is to learn about the benefits of proper sunlight exposure and vitamin D supplementation.

"We estimate that vitamin D deficiency is the most common medical condition in the world."
- Dr. Michael F. Holick, vitamin D expert

Government guidelines state that all children under 5yrs of age, pregnant and breastfeeding women and the over 65's should be taking vitamin D supplements. In February 2012 Dame Sally Davies, Chief Medical Officer for England announced that she will be contacting medical staff about government concerns that young children and some adults are not getting enough vitamin D.

Vitamin D3 and Vitamin K2 (MK-7) deficiency is becoming a world-wide epidemic. Over 1 billion people are at risk from conditions associated with deficiency of these vital nutrients. Many of the chronic common health problems have some relationship to lack of vitamin D. Almost daily, references to vitamin D dominate the headlines. Paradoxically, very little is being said about vitamin K. However, there is overwhelming evidence confirming that the safety of Vitamin D is dependent on adequate Vitamin K2 (MK-7).

The Vitamin D3 and Vitamin K2 (MK-7) in Solray-D are in the proper ratios to mutually support their synergistic balance requirements. 1000iu of D3 requires 120mcg of K2 (MK-7) to ensure balance and direction
---