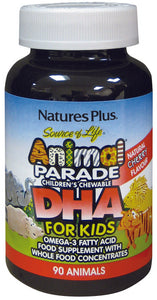 Natures Plus
Source of Life Animal Parade Children's Chewable DHA Natural Cherry Flavour 90's
Regular price
£15.10
£0.00
Unit price
per
Tax included.
Three chewable tablets of the Animal Parade DHA deliver 40mg of the essential omega-3 fatty acid DHA and complementary levels of vitamin A, D and E. It also provides EFA Absorption Complex for optimal activity and DHA contributing to the maintenance of normal brain function and normal vision.
Ingredients:
DHA (docosahexaenoic acid) (vegetarian) (omega-3 fatty acid from Algae [Schizochytrium sp.]oil); EFAsorbTM EFA Absorption Complex: Lecithin (
from soy
) (50mg), Phosphatidylcholine, Phosphatidylserine, Evening Primrose (Oenothera biennis) (15mg), Flax (Linum usitatissimum) (15mg), Lactobacillus acidophilus (25,000 viable cells‡), Lipid-digesting minerals; Other ingredients: Calcium carbonate (supplying 80mg of calcium), natural cherry flavour with other natural flavours, raspberry flavour, flavour enhancer (citric acid), potassium chloride, natural colour (beet juice), D-alpha tocopheryl acetate (supplying 1mg α-TE vitamin E), beta carotene (supplying 25μg RE vitamin A) and ergocalciferol (supplying 0.5μg vitamin D).
Contains milk and soy
Allergy advice: For allergens, see ingredients in bold.
There are
14 major allergens
listed in Annex II (1169/2011) of the EU Food Information for Consumers Regulation.
Additives: Microcrystalline cellulose, magnesium stearate, silica, citric acid, stearic acid
Sweeteners: Xylitol, fructose
---