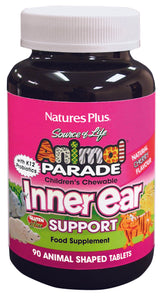 Natures Plus
Source of Life Animal Parade Inner Ear Support Natural Cherry/Mixed Berry Flavour 90's
Regular price
£20.55
£0.00
Unit price
per
Tax included.
Animal Parade Children's Chewable Inner Ear Support formula is an exciting advance in beneficial bacteria. This irresistibly delicious, natural cherry/mixed berry–flavoured chewable includes K12 live cultures. It also includes naturally derived xylitol, made from birch tree.
Ingredients:
Sweetener (xylitol), anti-caking agent (di-calcium  
phosphate), anti-caking agent (stearic acid), fructooligosaccharides, 
flavour enhancer (citric acid), natural flavourings, anti-caking 
agents (silica, magnesium stearate), Lactobacillus acidophilus, 
beet juice, gelling agent (guar gum), Streptococcus thermophilus 
K12
(Milk)
, chamomile (Matricaria recutita) flower, mullein leaf
(Verbascus thapsus L.).
Allergy advice: For allergens, see ingredients in bold.
There are
14 major allergens
listed in Annex II (1169/2011) of the EU Food Information for Consumers Regulation.
Additives: Di-calcium phosphate, citric acid, stearic acid, silica, magnesium stearate.
Sweeteners: Xylitol
---