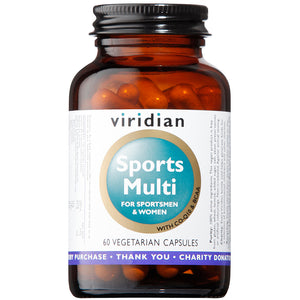 viridian
Sports Multi 60's
Regular price
£22.05
£0.00
Unit price
per
Tax included.
A maxi multi for sports performance. An excellent high potency multivitamin and mineral formula to complement and boost the activity of protein powders and sports drinks. Appropriate for those involved in regular physical activities such as aerobics, weight training and body building.
Ingredients:
Vitamin B5 (calcium pantothenate) 200mg, 
Magnesium (citrate) 25mg, 
Vitamin E (d-aplha tocopherol ) 67mg, 
Natural beta-carotene/carotenoid mix (D.Salina) providing: Beta carotene 5mg/Cryptoxanthin 39ug/Alpha carotene 158ug/Zeaxanthin 32ug/Lutein 25ug 5mg, 
Potassium (citrate) 25mg 
Mineral ascorbate mix: 
Vitamin C 65mg, 
Calcium 12mg, 
Zinc 5mg, 
Vitamin B3 (Nicotinamide) 50mg, 
Green tea extract (30% polyphenols) 50mg, 
Iron (bisclycinate) 10mg, 
MCT (Medium chain triglycerides) 50mg, 
Selenium (L-selenomethionine) 200ug, 
Vitamin B1 (thiamine HCI) 20mg, 
Vitamin B6 (pyridoxine HCI) 20mg, 
Vitamin B2 (riboflavin) 20mg, 
Choline (bitartrate) 8mg, 
Inositol 20mg, 
Alpha lipoic acid 20mg, 
Co-enzyme Q10 10mg, 
Manganese (citrate) 1mg, 
Boron (sodium borate) 500ug, 
Copper (citrate) 1mg, 
Chromium (picolinate) 400ug, 
Vitamin D3 (400iu) 1.25ug, 
Biotin 200ug, 
Folacin (folic acid) 200ug, 
Iodine (potassium iodide) 150ug, 
Vitamin B12 (Adenocobalamin and Methylcobalamin) 100ug, 
Vitamin K 5ug, 
Molybdenum (ammonium molybdate) 50ug.
---