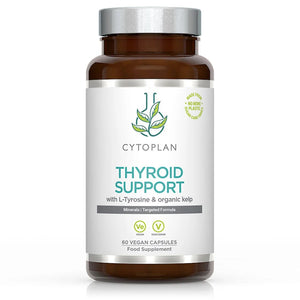 Cytoplan
Thyroid Support
Regular price
£14.50
£0.00
Unit price
per
Tax included.
Thyroid Support contains L-tyrosine, an amino acid that the thyroid uses to make its hormones. Seagreens® <i>Ascophyllum nodosum</i> is the organic kelp (a type of seaweed) species that we use in this product. It provides a natural source of iodine. Thyroid Support also contains selenium. Both iodine and selenium contribute to normal thyroid function.
1 Capsule will provide on average:
Active Nutrient Strength %NRV*
L-Tyrosine 400.0mg *
Organic Kelp (Seagreens® Ascophyllum nodosum) 215.0mg *
(providing Iodine) 150.0ug 100 Manganese 2.67mg 133 Selenium (from yeast) 56.75ug 103
+NRV = Nutritional Reference Value
* Indicates no NRV
Ingredients:
L-Tyrosine, organic kelp (Seagreens ® Ascophyllum nodosum) providing iodine, manganese, selenium (from yeast), vegetable cellulose.

Suggested Intake:
One or two capsules daily as a food supplement or as directed by a practitioner

Suitable for:
Vegans & Vegetarians

Contraindications:
Not to be used in pregnancy. People already taking prescribed thyroid medication should consult with their doctor before using this supplement.

Non-Active Ingredients:
Vegetable cellulose

Non GM & Free From:
GMO, gluten, wheat, soy, dairy, added sugar, flavourings & colourings.

Storage:
Keep cool, dry & out of direct sunlight.
---