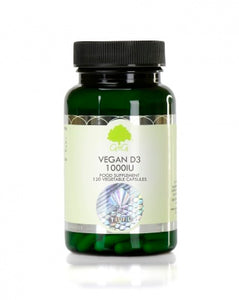 G & G
Vegan Vitamin D3 1000iu - 120 Capsules
Regular price
£11.00
£0.00
Unit price
per
Tax included.
WHAT IS VITAMIN D3?
Vitamin D3 is a fat-soluble vitamin which can either be ingested in food or manufactured by the body as a result of sunlight falling on the skin. Modern lifestyles have decreased the exposure we get to the sun, which has made it more important to monitor potential deficiency.
OUR VEGAN VITAMIN D3 1000iu
Our Vitamin D3 supplement is made from natural lichen, a composite organism that arises from algae. Lichen contains incredibly concentrated amounts of vitamin D3, which allows us to produce one of the highest quality vegan vitamin D supplements available.
WHAT DOES VITAMIN D3 DO?
Vitamin D contributes to normal:
Function of the immune system
Absorption/utilisation of calcium and phosphrous
Normal blood calcium levels
Maintenance of normal bones
Maintenance of normal muscle function
Maintenance of normal teeth
Process of cell division
SUITABLE FOR VEGANS
Vitamin D3 is suitable for vegetarians and vegans. It is also approved kosher and does not contain any major allergens.
---